About YWA
About YWA
Founded in 1992, by its artistic director, Louisa Lindsay-Sprouse, Young Writers Association, received its educational nonprofit status in 1994 and has stirred up lively literary arts explorations for youth in Lane County, Oregon for over twenty years. Kids and teens find interactive literature-based experiences in classrooms, in the community and in intergenerational settings with YWA. Since 2014, when Louisa Lindsay-Sprouse semi-retired,YWA changed to Special Requests only for literary arts projects, and no longer provides ongoing programming. We do welcome special requests! For Inspiration, please visit: Young People Writing and Wordplay-YWA Special Requests.
Young Writers Association Awards and Recognition:
• Duchess Committee recognized for excellence in the field of arts education
• Imagine Award presented by Lane Arts Council for extraordinary contributions to arts education
• Oregon Community Foundation Fentress Award for significant contributions to the cultural life of the community.
• Literary Arts of Oregon, Walt Morey Young Readers Literary Legacy Award for significant contributions that have enriched Oregon's youth.

About Louisa Lindsay-Sprouse
Louisa Lindsay is a third generation storyteller, performer and poet who has lived in several multi-disciplinary intentional arts communities. Whether for festivals, site-specific works, libraries, writing labs, or school assemblies, she brings story, poetry and movement to instigate creative exchange.
As artistic director of Young Writers Association, Louisa coordinated teams of passionate community members—visual artists, theatre artists, writers, musicians and scientists to provide engaging opportunities for young people to develop conversations between their inner and outer worlds. She published Lane County young people and produced an annual literary arts festival for kids and teens. She also coordinated in-school creative writing residencies and after school small group mentorships. Her Lively Lit Camps based on great books, and Teen Outdoor Writing Camps, where published authors wrote with teens in the great outdoors, filled the summer months.

Louisa conducted Teacher In-Services throughout Lane County, Oregon. Her literature-based curricula, training future teachers to integrate the arts, including creative writing, into core curriculum is still taught in University of Oregon's Youth Arts Curriculum & Methods classes. The U.S. Department of Education recognized her Lively Lit. Camps in their publication, Community Update, and in Learning For All Seasons.
View a PDF presentation about Young Writers Association.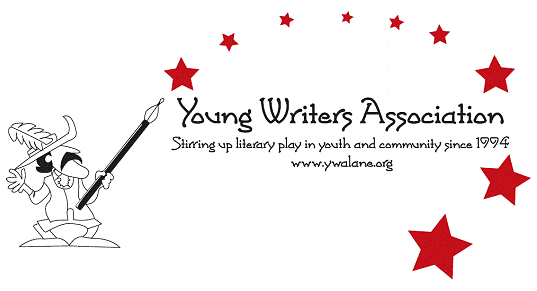 ---